More packing and refining of the gear-list for Antarctica and Aconcagua going on lately, and it's fast approaching less than two weeks away! Today we'll touch base on the clothing, outwear and base layers that I will bring. I'll be taking a mixture of hard and soft-shells (both jackets and pants), a couple insulating layers and I'm pretty much all merino wool these days in the base layer department, who's odor killing properties will for sure be much appreciated by my teammates during our multiple days on Aconcagua.
Base Layers

Tops: When layering, I really like to be able to strip down to a t-shirt if the sun comes out and I start to overheat. While some think pushing up the sleeves of a long sleeve shirt is good enough, I really like full venting and cooling benefits of a short
sleeve shirt when things get hot. I'm bringing two of my favorite pieces, an Ortovox Merino130 and an IceBreaker Velocity Crew.
I like them both mostly for their overall fit, which tends to be on the snug, form fitting side of things. I'll take one long sleeve base layer, an Arc'teryx Rho LTW Zip, most likely only for high on Aconcagua.
Bottoms: Two pairs of base layers will come with me on this trip, so I can wash one and wear the other as the stink escalates. Wool is great at fighting odors, but sometimes the stinky source is just too powerful if you know what I mean. I
like the Icebreaker bottoms and tend to lean on the heavier side of things, which adds warmth when the wind cuts through more breathable softshell pants. I also like bottoms that are cut short, which eliminates the extra fabric that gets tucked into your boots and can potentially cause hot spots on your shins on longer tours, especially in warmer temps. The Rapid Legging and BodyFit260 Legless layers work great for me and give me two options to wear.
Briefs: Some people don't think it's important to wear technical briefs, but I really like to wear briefs that keep my important parts close to my body, warm and dry.
I'm bringing three pairs of performance briefs in a variety of weights. Some IceBreaker Beast 150
and BodyFit 200 Boxer briefs, both made with 100% merino wool. I'm also bringing a super warm pair of Cloudveil Run Don't Walk Boxers which are made with Polartec Power Stretch and will be great if it's super cold at over 20,000′ on Aconcagua.
Softshells
Jackets: I want to have two soft shells to choose from. A warmer option, most likely for Aconcagua when the pace is slow, and a lighter weight, more breathable jacket for Antarctica, when I'm trying to maximize my ski time.
While technically not a soft-shell since it's made with a Polartec Power Shield laminate, the Arc'teryx Gamma MX Hoody has an outstanding trim fit, allows for unlimited mobility (the MX part of the Arc'teryx scheme) and is very comfortable. It's got no less than five packets which I can stuff with food and lip balm, so I don't have to take my pack off every five minutes when sucking wind with limited O's.
This will be my third year rolling with this Epsilon SV Hoody and I feel it is the most breathable hooded soft-shell in the Arc'teryx lineup. It's held up great since I've used it nearly everyday I've been skiing over the past two years, but is showing a little wear right at the junction of the seams near my armpits, and where the shoulder straps of my backpack ride. It fits even more trim than the Gamma, which I think is a plus, but still have two big pockets to hold larger items if you need to.
One more jacket tops off the soft-shell list, and more of a sweatshirt that I can wear chillin' on the boat and as an extra layer at camp on Aconcagua. The Fugitive Hoody is basically a fleece, but with a smooth, Polartec Hardface fabric that is pill resistant, more wind blocking and much more durable that standard fleece. The smooth outer-face of the fabric also allows it layer better and is less grabby with whatever is layered on top of it. The Scuba hood fits tight and can be worn under a helmet if you are hardcore enough to be climbing through the maw.
Pants: I'm sure it will be rare that I will wear softshell pants in Antarctica. But if I do, I want something light that I can wear under hardshells in case the weather turns while we're on the on the peninsula. For the majority of the time on Aconcagua, I will most likely live in them 24/7. The Arc'teryx Gamma SK pant is my go to softshell pant for warmer temps. They've got suspenders to keep them from falling down, two nice thigh pockets for stashing things like your ski strap and have durable Schoeller Keprotec panels on the inside of the cuffs for durability.
Hardshells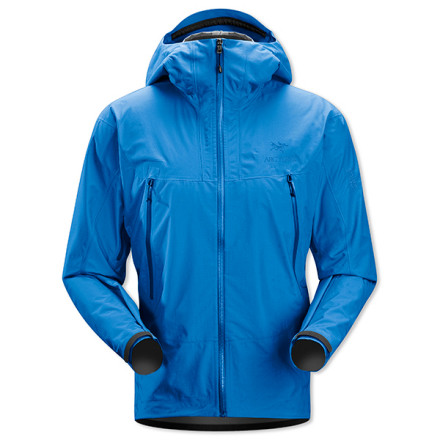 Jacket: Although I rarely use them when skiing in the Tetons, I will most likely want a hardshell for the wet environs of Antarctica. Finding the perfect hardshell is always tough, most fit super baggy and don't breathe worth crap. The Arc'teryx Alpha SL I can honestly say is the hardshell of your dreams and fits nice and trim so you're not pushing away extra material digging into a pocket or searching for something on you backpack waist belt or harness. It's also made with Gore-Tex Paclite.
Pants: Light-is-right for hardshell pants in my opinion and I want something thing with full-zips on the sides so they are easy to take on and off as the
weather changes, as well as being able to unzip partiality to vent through. The Alpha LT pant is just that and is made with Gore-Tex ProShell, which offers a durable outside fabric, as well as being highly breathable and have long lasting waterproofness. I like the Alpha LT because it has a simple and low profile single cuff at the legs, no pockets which add bulk and suspenders. They also have waterproof zippers which negate the need for extra wind flaps and sipper covers, and help keep the weight down to just over 1 pound.
Insulation

Jackets: A couple months ago, I did a video review of the Arc'teryx Fission SL and got poo-poo'd about the price and real need for a waterproof insulating jacket/parka. While the Fission SL isn't cheap, in the wet environs of Antarctica and high winds of Aconcagua, I sure am glad I have one. Its ProShell exterior will keep its synthetic insulation dry and the wind at bay. Its awesome hood fits over a helmet great and pit zips ad versatility and breathability, all in a trim fitting package.
Now, the Fission SL isn't an expedition weight parka and for Aconcagua I think I'm going to want some extra warmth. The new Atom LT is the perfect compliment for layering underneath the Fission and on it's own around camp. I just got one of these jackets and I've been wearing it every day so far and I barely know it. Weighing less than a pound (375g/13.2) the Atom Lt is perfect for this application and I can see myself using this a lot in the warmer/sunnier days this winter and spring.
Pants: There is nothing I hate more than being cold when sitting around camp melting water and cooking (Aconcagua), and I find insulating pants an important part of the equation when camping in cold temperatures, since it's not always that convenient to be curled up in your sleeping bag to stay warm. Arc'teryx Kappa AR pants keep the cold out with Windstopper, keep you warm with 200g Primaloft, and are easy to put on over boots with full side-zips. Not the lightest insulation pants out there (610g/1.4lbs) but they are bomber and I don't have to worry about getting them wet since they are so weather resistant.